All our professionals maintain the highest levels of accreditation and pursue ongoing education to stay abreast of the latest trends in the medical field. Read on to learn more about our staff's experience and training.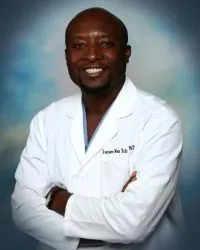 Lucien-Max Tchuisse, M.D., FACOG, Board Certified
Education and Training
Medical Degree
Bachelor of Arts, Biology
Professional Certifications/Licenses
---

Alyn McGee, CNM, APRN
My name is Alyn McGee and I am blessed to be a Certified Nurse Midwife. For the past 10 years, I have worked in Maternal Fetal Medicine, and for the Florida Department of Health, assisting women during pregnancy, birth and life.

Before becoming a midwife, I was a registered nurse for 19 years. My years were spent in labor and delivery, post-partum, normal newborn nursery, neonatal intensive care units, pediatrics and gynecology. From office clinical care to level IV hospital care, I've done it all.
Being a part of the incredible journey of a woman; becoming a mother, of partners becoming parents, and individuals forming a family, is a passion of healthcare.

I am an American born Cuban. I believe in God, family and birth, in that order. I have three adult children and two grandchildren. I love cooking, gardening, hiking and photography.

"The two most important days of your life are the day you are born and the day you find out why."
Mark Twain

---
Connie Gellinger MSN, APRN, CNM
Hi! My name is Connie, and I am so excited that you are considering our practice for your healthcare!
I joined First Coast OB/GYN following my graduation as a Nurse Midwife from Frontier Nursing University. I am so happy to work with this fabulous team that brings exceptional women's care to Palatka and it's surrounding communities.
I started my nursing career as a registered nurse working in labor and delivery at Vanderbilt University Medical Center in Nashville, TN. My family and I called middle Tennessee home for nearly 20 years. We are excited to have Florida as our new home and look forward to exploring it's beauty.
I am passionate about serving and advocating for women and their families. I look forward to working with you!